I was delivering a meal to some friends and decided last minute I wanted to top it off with a little something for dessert. I didn't have time to go to the store so I knew I needed to find a recipe with ingredients I would already have lying around.
I came across the "Tennessee Butter Cookies" recipe in Some Like It South and was drawn to it because it had minimal and simple ingredients, but wouldn't look like something I just threw together. The jam is an ingredient I had never used before in cookies so I was hoping this would take them to the next level.
Mixing the dough proved to be quick and easy but the part that needs a little finesse is shaping the cookies. My dough was a little crumbled which made the cookies break apart a bit but none of them lost all of the jam. Speaking of jam, here I am using strawberry jam as well as a homemade Meyer lemon jam. I am pleased with both flavors and like having the color variety. I suggest a tart jam to pair with the butteriness of the sugar cookie.
The cookie sheet I use is my absolute favorite. You don't need to worry about whether or not you need to grease the sheet because the bumpy pattern makes it non stick! I got this at Pensacola Hardware, a store that also carries Some Like It South. Even though these cookies had enough butter to not need the sheet greased, I was glad to have it when the sticky jam leaked from a few cookies and cooked to the sheet.
I've concluded that this recipe made a great batch of cookies. Other feedback I received was they'd be great around the holiday's thanks to the festive color and are a great option for breakfast as well!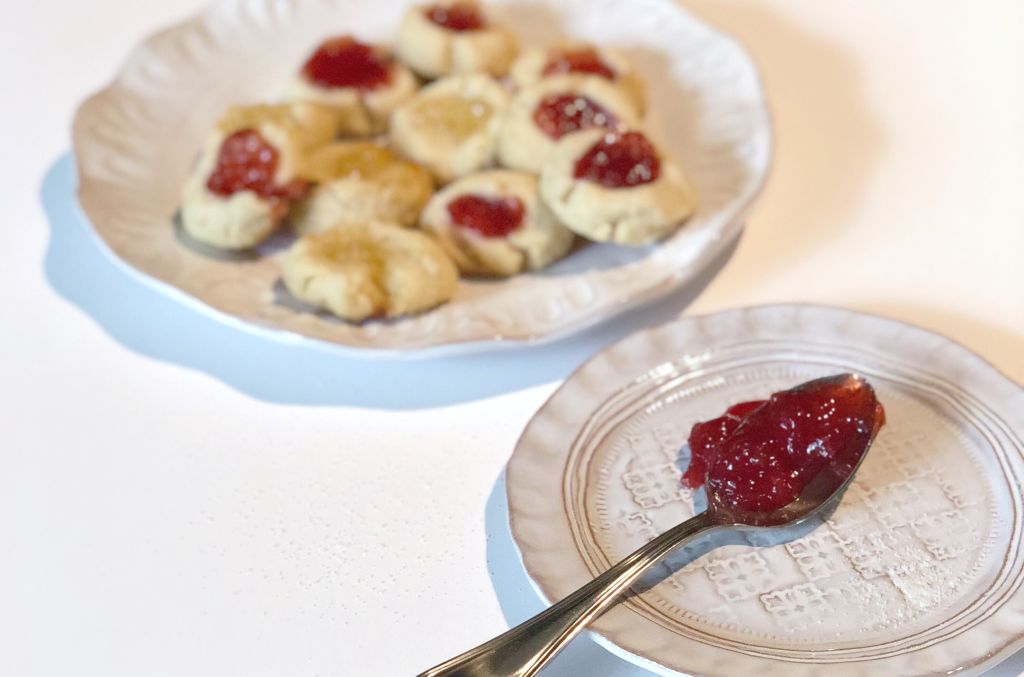 article by MWC